---
Iridescent cloud 2
A nice example of iridescence in high cirrus, seen in Leeds, March 2004.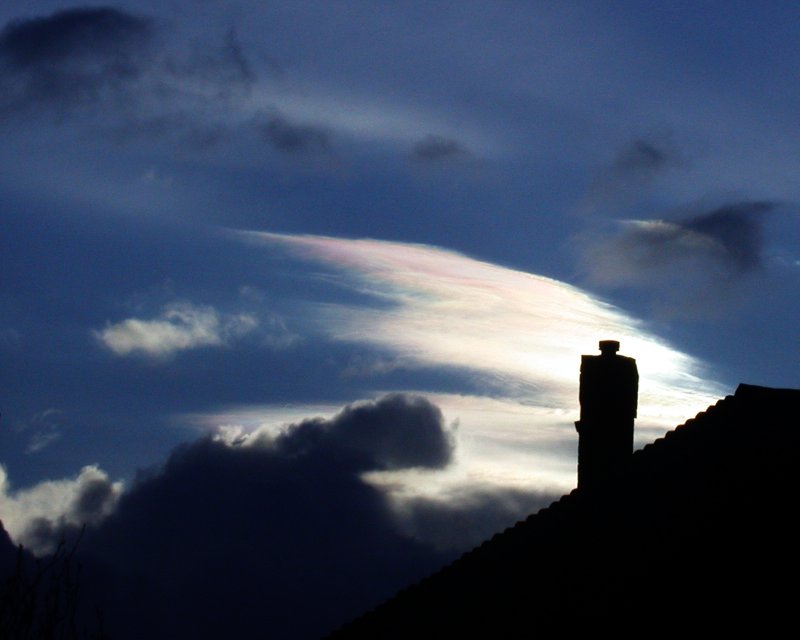 Iridescent cloud [Leeds, 5:25:20pm Tue 23 Mar 2004; Nikon E995 digicam]
Lee photograhed these iridescent clouds between the houses on a walk down our street on a March evening. Within a few minutes they had all turned grey.
Iridescence is caused by sunlight diffracted through water droplets; these clouds are most commonly seen near the sun, in winter and over mountains (well, two out of three isn't bad).
Image details
Photographer: Lee
Taken: Leeds UK, 5:25:20pm Tue 23 Mar 2004
Original format: 2048 x 1536 JPEG, 978 Kbytes
Camera: NIKON E995
Exposure: 5/2441 sec * ISO100 * f8.20
Focal length: 31.00mm
Photodesk processing: Clipping, scaling, gamma

EXIF data produced by EXIFinfo
DSCN7211/JPG

Taken :
5:25:20pm Tue 23 Mar 2004
Camera :
Nikon E995
Size :
2048 x 1536 pixels
Filesize :
978 Kbytes

shooting information
Exposure :
5/2441 sec at ISO100
f :
10.30
Focal length :
31.00mm
Bias :
0
Program :
Aperture priority
Metering :
Pattern
Flash :
Not fired
Orientation :
x0,y0=left,top
Compression :
4

nikond information
Quality :
Fine
Colour mode :
Colour
Image adjustment :
Auto
Image sharpening :
Auto
Saturation :
0
Noise reduction :
OFF
Digital zoom :
Off
ISO selection :
Manual
ISO setting :
ISO100
White balance :
Auto
Focus mode :
AF-C
Manual focus distance :
Auto
AF focus position :
.
Auxiliary lens :
Off
---
© Lee Montgomerie / Chris Terran 2004
All images are copyright and may not be reproduced without permission
---